Pineapple fruit: Western specialties sobbed
The western pineapple always makes people fall in love, not only because of its characteristic sweet fragrance but also for its sweet and delicious taste. At the same time, pineapple also contains many nutrients that are beneficial for human health.
Handbook of pineapple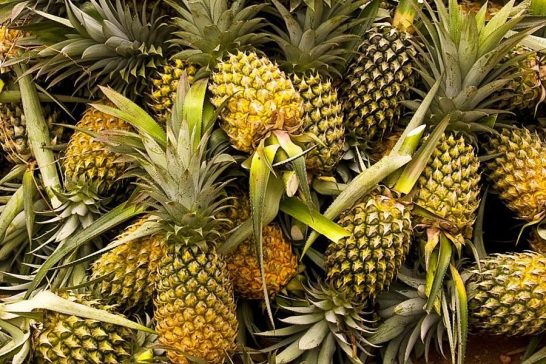 Information and features
Origin: Pineapple fruit also known as what fruit? Pineapple (also known as pineapple, pineapple) is a tropical fruit native to South America. Vietnam is one of the regions with favorable climatic conditions for fragrant plants to develop. Therefore, our country has always been a country with the largest area of growing this fruit in the region, giving its people many economic and nutritional values for people to eat.
The aromatic varieties grown in Vietnam to help you buy the original pineapple are:
Queen pineapple group: The characteristic of the pineapple of this group is the medium sized fruit (500-900g), the hard fruit has the advantage of transporting many, many spines concentrated on the edge of the leaf. The flesh of the fruit has the darkest yellow color, characteristic aroma with a rich but not harsh sweet taste. With many advantages, this aroma is being grown most popularly in our country.

Cayen pineapple group: Characteristics of this type of pineapple are egg-like cylindrical shape, large fragrant eyes. When ripe, they will gradually turn yellow from the stalk to the tip of the fruit. This aromatic type, although not very sweet, produces very large fruits, so it is often grown to process products such as juices and jams.
Economic value
Many places grow fragrant and consider it to be a king fruit because of the popularity and popularity of this fruit. Even Western countries love its signature fragrance and scent. At the same time the nutritional value of pineapple fruit contains many essential nutrients for the body: Nutrients such as water, calories, glycol;
Minerals such as calcium, iron; Vitamins are diverse, especially vitamin C. Therefore, aroma is always a fruit that provides extremely stable economic benefits for growers. In addition to being eaten fresh directly, fragrant can also be used to process other preparations such as juices or fruit jams. Therefore, it is a major export commodity.
Nutritional value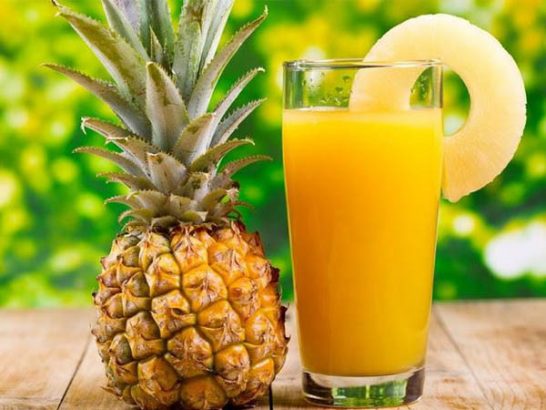 How to choose deliciously to be able to promote the benefits and nutritional value of the fruit to the maximum. Here are some of the most commonly used aromatic benefits in health care.
Improve immune system health: Pineapple helps provide up to 50% of the recommended daily intake of vitamin C for the body. This is a substance that can dissolve in the urine, helping to prevent cell damage, limit heart problems or aches and pains.

Enhance digestion: Aromatic is rich in fiber, beneficial for the digestive system, especially the intestinal tract. At the same time, when combined with bromelain - this is an enzyme capable of breaking down protein efficiently, it will help the digestive system get stronger and avoid digestive problems such as constipation or diarrhea.

Anti-inflammatory: Bromelain itself can help fight inflammation, control the growth and development of tumors. So, it looks great for patients and those at risk of blood clotting.
Where are the characteristics of pineapple planted most?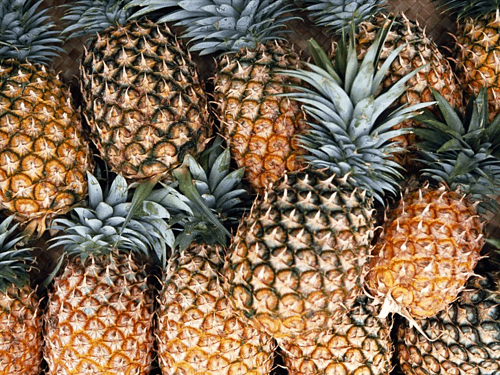 Cluster of the Mekong Delta region
The granary in the Mekong Delta is becoming more and more developed and promoting its value not only in economic value but also gradually affirms its brand with high quality products. It possesses many advantages and development potentials of pineapple compared to other regions in the country.
So, recently, this local pineapple planting area has been expanded and focused on developing up to 40,000 ha. However, production of pineapple in the Mekong Delta is not sustainable, due to high production costs, unstable output, mainly for domestic consumption, and limited export.
Hamlet of Long An area
Ben Luc Long An Pineapple increasingly asserted its brand name and helped farmers gain great economic value. In which, Thanh Loi commune is the region with the largest pineapple-growing area of ​​Long An province with nearly 500 ha.
Although this land is often contaminated with alum, pineapple trees are very adaptable and grow very well. On average, the people here have a profit of nearly 70 million VND / ha. In addition to growing and trading pineapple, pineapple in Long An is also used for processing into other products such as dishes, juices or confectionery ...
Hamlet of Tien Giang area
In Tien Giang, pineapples are considered the most popular and most important crop for production, thanks to which the people here are increasingly improving their lives. Here, the pineapple planting area is maintained and expanded more and more, increasing the use of science and technology to improve the quality of crops and products.
Notes when eating pineapple fruit
Stop eating with an allergy: Pineapples have meat tenderizing properties, which can cause swelling of the lips, cheeks, and tongue, but should resolve on their own after a few hours. However, if the swelling is accompanied by hives, hives, or difficulty breathing, you may have a pineapple allergy. In this case, you need to stop eating and get medical attention immediately.

Increases blood sugar quickly: Aromatic has high amount of carbohydrates and sugar, so avoiding too much for a long time will easily spike blood sugar. We should combine using other fruits, not just eating fragrant foods in our diet.
Western aromatic is very useful for human life, both economically and in health. Therefore, we should use and know how to properly use this fruit to be able to destroy its best use. One of the factors to bring about that is the quality of the fruit we use. Understanding that, Vinfruits three-region fruit system is committed to providing customers with premium quality fruit products with clear origin and safety and hygiene to meet national and national standards. practice.
How to eat pineapple properly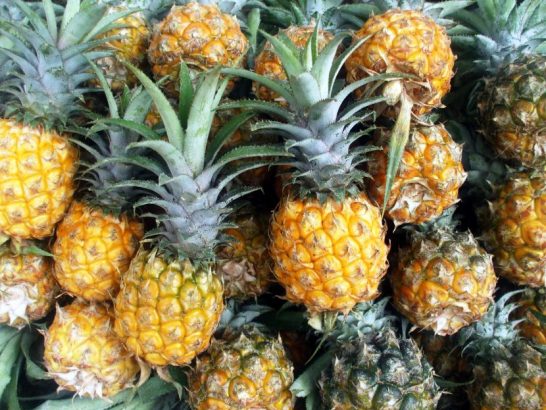 Characteristic characteristics when eating pineapple
Why eating fragrant, burning tongue is the most obvious feeling of people eating this fruit. The cause of this phenomenon is: a burning sensation of the tongue and a little itching when aromatic is due to the compound bromelain - a mixture of digestive enzymes that has many benefits in effective anti-inflammatory treatment. This enzyme is found in the core and peel of pineapple.
Although it is beneficial for health, when it comes into contact with sensitive skin such as the oral cavity and tongue, it will break down proteins causing a burning sensation. Although it makes people uncomfortable, it is not harmful to health.
Instructions on how to eat properly
The way to eat fragrant without burning tongue is applied by many people and it is effective: Make sure that you are eating the fragrant fruit that is fully ripe: Accordingly, we should choose the fragrant fruit with rich sweet taste, thick aroma. display and when the flesh has turned bright yellow. Because when eating fruit that is still green on the skin, it will contain more bromelain enzyme - the cause of burning tongue when eating is uncomfortable. In addition, we should not eat too much aroma in a short time that will make the burning sensation stronger, even lead to numbness of the mouth.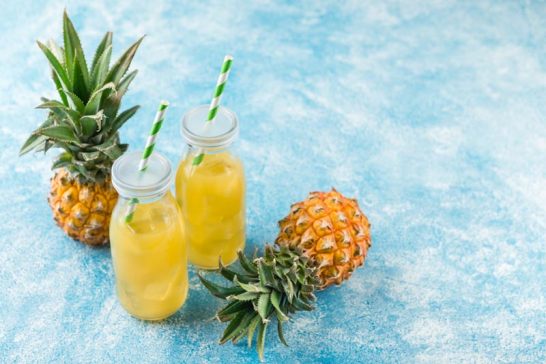 Pineapple is always the favorite fruit to use, not only as a dessert dish, a popular street snack for refreshment, but it also brings economic value and nutritional value to the user. Therefore, this is definitely the fruit you cannot forget to supplement your body with nutrients. To be able to use the best products you can refer to using fruits distributed by Vinfruits. With more than half a decade of experience, Vinfruits has always received support from consumers. Premium, safe, and reasonable prices are what Vinfruits is committed to bringing to customers.