Eating mangosteen is good or not and what should be noted when eating
Mangosteen is a popular fruit that is loved by many people not only because of its delicious taste, sweet taste mixed with sour taste, but also because this fruit has many uses in beauty and treatment. However, how to eat mangosteen properly is something that not everyone knows.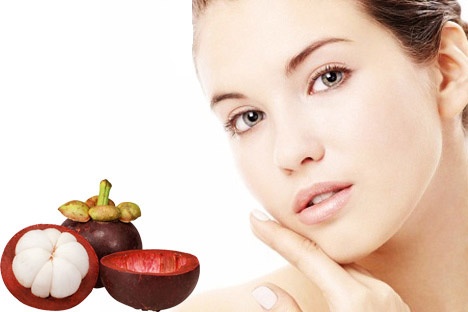 a. Nutritional ingredients
A special feature comes from the nutritional composition of the mangosteen that there are more than 40 types of natural Xanthones antibodies in the peel of the mangosteen. Up to now, there is still no fruit that can compare with mangosteen on this factor. The nutritional value in 100g of mangosteen includes the following ingredients:
Provides 73 kcal

Carbohydrate: 17.91g

Fiber: 1.8g

Fat: 0.58g

Protein: 0.41g

Vitamins B1, B2, B3, B5, B6

Vitamin C: 2.9mg

Calcium: 12mg

Iron, Magnesium, Potassium, Zinc
b. Uses for health and beauty
Cancer prevention: Thanks to the above amount of xanthone, mangosteen has the ability to control the formation and development of cancer cells, especially colon cancer.

Strengthen the immune system: Mangosteen contains many nutrients that are beneficial to health, from essential nutrients, minerals to vitamins and a lot of natural xanthone ... to help increase the body's resistance. agents outside the environment, preventing diseases caused by weakened immune systems.

Improving skin health: Mangosteen has anti-inflammatory, antibacterial and fungal, antioxidant properties. Thereby, reducing the risk of common skin diseases caused by bacteria, dermatitis such as eczema, psoriasis, acne ...
c. How to eat mangosteen properly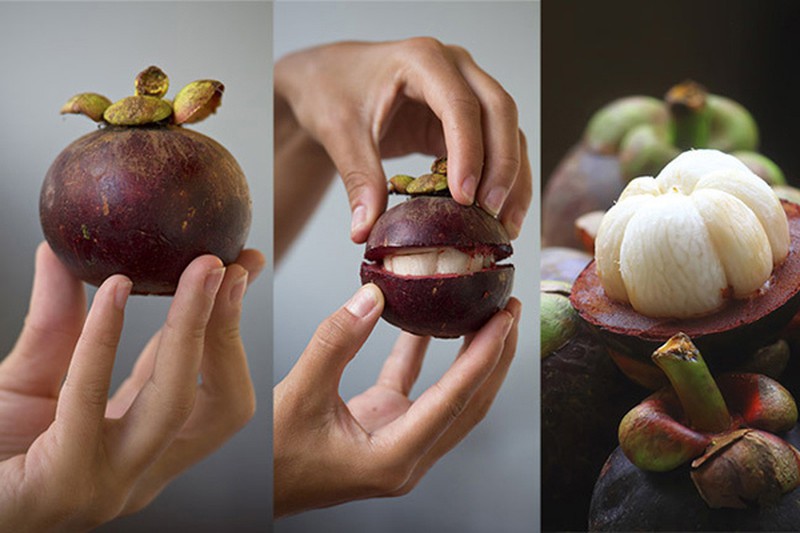 Eating mangosteen with acne is not what many women wonder. In the nutritional composition of mangosteen contains vitamin C. Although vitamin C has a high antioxidant capacity, it has hot properties. Therefore, the downside of eating too much mangosteen is that it can cause internal heat, acne, and redness. However, this phenomenon only happens when we actually overeat without adding any foods for a long period of time.
Whether or not mangosteen is fatty is something to keep in mind when eating this fruit. Based on the nutritional facts panel, it can be seen that each 100g of mangosteen will provide an energy source of up to 73 kcal. This is an average energy level, but if we eat more than 100g, this energy level will be quite high, which can cause excess energy, leading to fat storage and obesity. However, if you control and eat mangosteen in a moderate amount, it will not affect your body shape, but in contrast, many women have used mangosteen to lose weight. This method is applied when we eat mangosteen just enough, reducing cravings for snacking during the day.
Whether the yellow mangosteen is edible is not based on the outer color of the mangosteen peel, we can recognize what is delicious, not delicious and no longer edible. According to the experience of many farmers, the mangosteen fruit has a hard, shiny, gray outer shell or is covered with a yellow layer, it can be delicious, sweet and fresh. But with the same color, but the skin is soft, flaky or watery, it is when the fruit is spoiled or rotten, possibly due to being pressed, not as juicy as naturally ripe.
d. Notes when eating mangosteen
Time to eat: On the advice of experts, we should eat mangosteen 30 minutes after meals. Because mangosteen contains lactic acid, if eaten on an empty stomach easily leads to stomach pain.

Eat a sufficient amount: Mangosteen has a lot of beneficial nutritional ingredients, but besides that it also contains acidic acid, providing relative calories. Therefore, we should only load a sufficient amount of mangosteen, should not eat too much in a short time. Instead, you should add a variety of other fruits, especially those containing lots of water and vitamins such as beans, cucumbers, oranges ...
Mangosteen damage Interfering with blood clotting when interacting with blood thinners such as warfarin, gastrointestinal bleeding may occur. Many doctors recommend that patients not eat mangosteen 2 weeks before surgery increases the risk of bleeding during or after surgery.